Stoker Fired Boiler are classified according to the method of feeding fuel to the furnace and by the type of grate. The main types of stokers are:
Chain-grate or travelling-grate stoker

Spreader stoker boiler
Travelling Grate or chain grate Stoker Boiler
In Travelling Grate  boiler coal is fed at one end of a moving steel chain grate. As grate moves along the length of the boiler furnace, the coal burns before dropping off at the end as ash. Some degree of skill is required, particularly when setting up the grate, air dampers and baffles, to ensure clean combustion leaving minimum of unburnt carbon in the ash.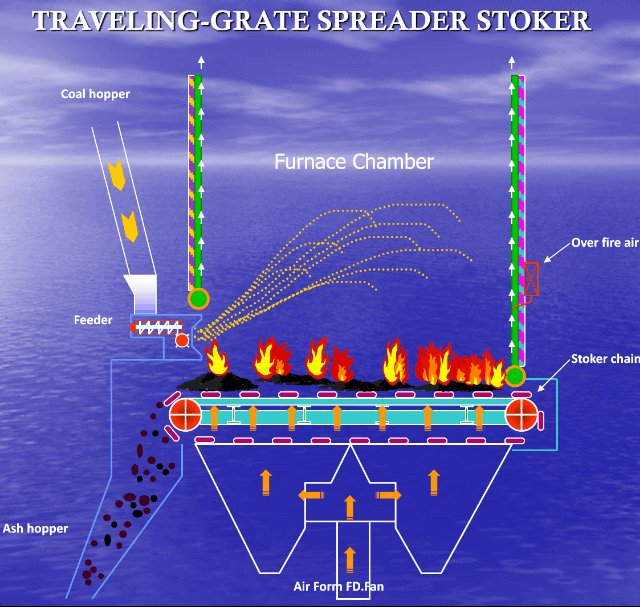 The coal-feed hopper runs along the entire coal-feed end of the furnace. A coal grate is used to control the rate at which coal is fed into the furnace, and to control the thickness of the coal bed and speed of the grate. Coal must be uniform in size, as large lumps will not burn out completely by the time they reach the end of the grate. As the bed thickness decreases from coal-feed end to rear end, different amounts of air are required more quantity at coal-feed end and less at rear end.
Spreader Stoker Boiler
Spreader stokers utilize a combination of suspension burning and grate burning. The coal is continually fed into the furnace above a burning bed of coal. The coal fines are burned in suspension; the larger particles fall to the grate, where they are burned in a thin, fastburning coal bed. This method of firing provides good flexibility to meet load fluctuations, since ignition is almost instantaneous when firing rate is increased. Hence, the spreader stoker is favored over other types of stokers in many industrial applications.
Feeders for spreader stokers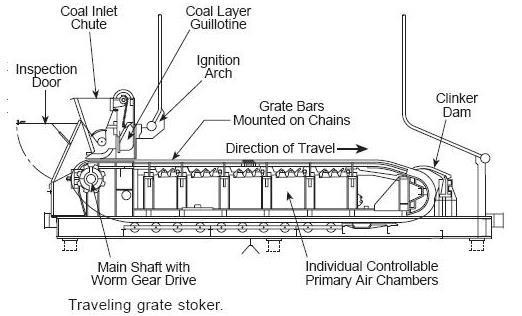 Spreader feeders have the capability to uniformly feed coal into a device that can propel it along the depth of a grate in an evenly distributed pattern. Many designs have been used successfully over the years. The coal feed mechanisms include gravity reciprocating plates and metering chain conveyors. The mechanisms that propel the coal into the furnace include steam and air injection as well as underthrow and overthrow rotors. Steam or air assist can be used with the rotor systems.